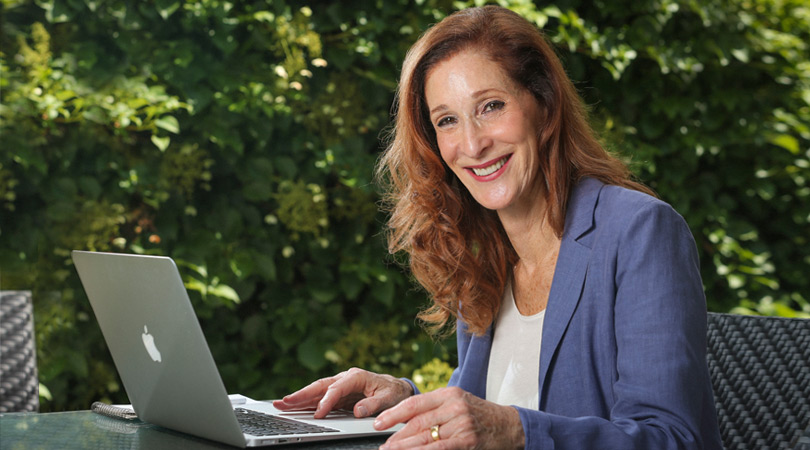 "The thing about Ellie is this, people talk about her relationship advice – on twitter, in chats, online. She's trending with a world-wide audience who trust her. People in the newsroom ask her stuff about their own lives – and I'd say that's a real endorsement."
- Michael Cooke – EDITOR, TORONTO STAR
"I've read your column for a few years now, and I like how you are often able to take the most complex of situations and un-knot them."
- Regular Reader
Thank you for providing answers and a voice to all in your column. I especially appreciate that you respond to young people reaching out to you. Their issues often loom large in their minds and they are not sure where to turn.
- Anonymous
---
Ellie Tesher is wise, witty and pulls no punches. A booty call is just that, not a romance.
As a syndicated advice columnist, whose column ELLIE has appeared in newspapers across Canada and in the United States since  September 2002, her following extends across the globe through the Internet.
Whether a single woman in South-East Asia, a teenager in a Gulf state, a husband in England, or a parent in Australia, along with tens of thousands of North American readers, all rely on Ellie's common sense, and insights.
She's bold, tackling questions about hook-ups, cheating, pornography addiction, snooping, nude selfies and whatever else is thrown her way, with unflinching directness distilled with reality checks.
She's a "bad in-law" relationship expert, having hosted 39 episodes of "Outlaw In-laws Reality TV show which appeared on Slice in Canada, and sold to the U.S. , Britain, Israel and several countries.
Always entertaining and eloquent, she's a popular guest on national and local television and radio shows and, with her daughter/assistant Lisi Tesher hosted their own talk-radio call-in show.
She makes many public appearances and keynote speeches, and is often asked to participate in public events and panels. She appeared in a seminar of motivational speakers including TV's Dr. Phil.
Ellie brings a unique voice – smart, funny, compassionate and practical – to the advice scene. She combines insight and life experience with solid research skills and information on local resources, as well as her early background in social work.
Exposed to advice-giving as a youngster who hung around her father's old-fashioned corner drug-store while he answered customer's relationship questions while filled their prescriptions, she also experienced a personal view of readers' problems:
A depressive mother, a young marriage, divorce, single parenthood, a period with a live-in alcoholic partner, the impact on teenagers, caring for a parent with Alzheimer's, a second and successful marriage, step-parenthood, family diversity, and the challenges of building a fine journalism career.
Through it all, she became a model of her own advice philosophy- that people can overcome all kinds of obstacles, rise above them and inspire those around them to do so.
Ellie Tesher, as author and journalist, built great credibility and excellent credentials over 29 years, with readers of the Toronto Star – the largest circulation newspaper in Canada, where she's been news columnist, editor, investigative and features writer, and reporter.
Her award-winning social justice columns established her as a popular voice. Her commentary spanned current news, controversy, government policies, observations on trends and talking points, and personal insights both sharp and humourous. She writes  and speaks with clarity and passion.
Her 1999 best-seller The Dionnes is the remarkable story of the adult lives of identical Canadian quintuplets – the first ever in the world to survive to adulthood. They became world-wide, money-making and exploited child celebrities during the Depression years, only to suffer family isolation, personal tragedies and adult poverty. The book sold out in hard cover and paperback.
The book is the only account of the sisters that reveals their full adult lives and shocking slide into desperate straits, despite the fortune in tourist dollars they'd created for Ontario and Canada.
Following Ellie's exclusive interview with the three surviving sisters, which appeared on a Monday, and her subsequent daily articles, the women were granted $1 million each by the Ontario government just four days later.
Ellie graduated from the University of Toronto with a major in sociology, completed part of her master's degree, and worked for a period as a child care social worker with Toronto's Children's Aid Society where she managed the cases of 50 foster children removed from their parents' homes.
She wrote freelance articles for three years, and was published in many magazines and newspapers. She was invited to join the Toronto Star in 1977, without having applied for a job.
She's happily married to her second husband, Vian Ewart, a former journalist turned accomplished artist.
As a couple, they radiate the joy and energy of embracing new experiences, personal growth, and constant learning.
Between them, they enjoy a family of five adult children and four children-in-law (so far), representing almost every food culture, and providing frequent surprises.
Find Ellie's column in these available newspapers
Toronto Star Newspapers Ltd.
Calgary Herald
Guelph Mercury
Lethbridge Herald
Prince Albert Daily Herald
The Guardian
The Journal Pioneer
The Star Phoenix
Waterloo Region Record
FamilyLife.com
ELLIE is also widely read on the Internet and receives questions from readers all over the world, including Dubai, Mali, India, Abu Dhabi, Egypt, Lebanon, Mexico, Spain, France, Switzerland, Russia, Poland, Ireland, Scotland, England, Israel, and more, plus all across the United States and Canada.